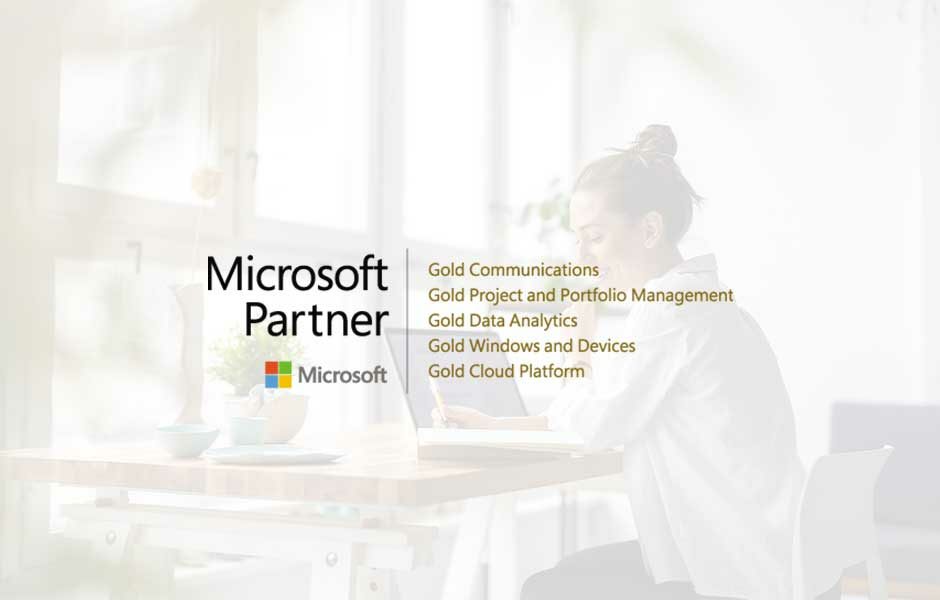 What does it mean to be a Microsoft accredited partner?
Microsoft Competencies are designed to showcase a partner's proficiency, consistency and commitment to the latest Microsoft technologies.
As the highest Partner award achievable, being Gold accredited places us in the top 1% of the Microsoft Partner ecosystem.
For our customers, being in that 1% means that you can benefit from our deep expertise and proficiency, as we strive to create the most innovative, productive solutions for you, using the latest Microsoft technologies.
Accreditation also allows us to enjoy early access to new, upcoming software. As a result, we're better able to give you advanced service, and keep your business agile.
How did Teleware become a Microsoft Accredited Partner?
Becoming an awarded Partner requires some dedication.
The Microsoft Gold Partner status is only awarded to Partners who meet extensive technology requirements and demonstrate expertise through rigorous exams. As part of the process, Partners who want to become accredited must:
Submit customer references that demonstrate successful projects (and an annual customer satisfaction study),
Meet a revenue commitment for most Competencies,
And pass technology, and/or sales assessments.
You can trust in the fact that achieving these Competencies is a true mark of a Microsoft Partner's technical capabilities, results and innovation!
Teleware's Accreditations
In the Microsoft Partner Network of partner consultancies and rankings, there are three levels of accreditation: Member, Silver Competency, and Gold Competency.
To attain a Silver Competency, a Partner must demonstrate their consistent Microsoft capability and commitment. To attain a Gold Competency, a Partner must achieve the above, plus prove their best-in-class capability within a Microsoft solution area.
Teleware holds 5 Gold, and 4 Silver Competencies, and has been an Accredited Partner for over 20 years.
Our Gold Competencies are held in:
Cloud Platform
This is an Applications and Infrastructure focused competency, which shows how we can better help you to compete, and grow faster in the cloud.
Specifically, the Cloud Platform Competency showcases how we can help you modernise and scale your infrastructure, and deploy, migrate and maintain your applications and data securely to the cloud.
Communications
This is a Modern Workplace and Security focused competency, which showcases how we can help you create more engaged, flexible, and productive employees.
Specifically, the Communications Competency shows our technical capabilities in designing, planning, and implementing unified communications strategies for our customers across both hybrid and cloud environments.
Data Analytics
This is a Data and Artificial Intelligence focused Competency, which showcases how we can support you through Data and AI.
Specifically, the Data Analytics Competency demonstrates how we support business intelligence solutions, and deliver actionable, clearly visualised data insights that you can use to drive business decisions.
Project and Portfolio Management
This is a Business Applications focused competency, which highlights how we can create intelligent business applications through the power of Microsoft Dynamics 365.
Specifically, the Project and Portfolio Management competency is designed to show that we can deliver complete, enterprise-wide project and portfolio management solutions on the Power Platform.
Windows and Devices
This is a Modern Workplace and Security focused competency. Specifically, the Windows and Devices competency shows how we can help you leverage the power of Windows at a technical level; from deployment to delivering state-of-the-art devices, to building, testing, and maintaining Windows optimised applications.
Putting Microsoft Competencies into action
At Teleware we are proud to have achieved these Competencies, and we're working on securing even more. Customers also benefit from Teleware's combined competencies. This means customers get incremental value from the multitude of skills acquired across the Teleware team. This enables customers on their journey to improved productivity and efficiency.
To show you how Teleware can help you get more out of your Microsoft investment, here are three examples of how we've deployed our Microsoft knowledge and skills to add value for clients.
Provident Financial
At the start of the  COVID-19 pandemic, many businesses had to rapidly change the way they operated. Faced with the removal of all face-to-face contact overnight, Provident Financial needed to remain agile to maintain uninterrupted service for their customers.
To support their needs, Teleware:
Supported Provident in transitioning to remote lending, including staying compliant with FCA rules
Deployed bespoke call recording solutions to ensure compliance, security, efficiency and productivity
Expanded Provident's .Net and Azure capabilities to provide the most advanced Microsoft solution available, all delivered remotely
You can learn more about how Teleware supports Provident Financial here.
DC Thompson
Realising that their on premise solution was becoming outdated and inefficient, DC Thompson needed a collaboration and communication solution to reflect their modern working dynamic, and future growth plans.
Needing to streamline and unify their outdated, disparate telephony PBX; DC Thompson understood the productivity, cost, and collaboration advantages that cloud calling solutions such as Microsoft Teams provide. As such, they needed a partner to provide a simple, centralised solution for all their collaboration requirements – including calling.
Although DC Thompson had an existing, trusted software partner in place, Teleware stepped in to support that relationship, and bring over 30 years' experience in telephony to this project.
To support their needs, Teleware:
Ran a Direct Routing proof of concept 60 users for 30 days, enabling the DC Thompson team to understand how Direct Routing worked
This led to a full rollout of Direct Routing and Teams telephony (including hardware) across DC Thompson's organisation; providing a secure, reliable platform that can quickly and adapt to the changing needs of the business, and support hybrid working
You can read more about how Teleware supports customers in our case studies.