The accelerated shift towards hybrid working has sparked the need for advanced collaboration – and it's safe to say that hybrid working is here to stay. 
Today, employees place higher expectations on their organisations to provide the collaborative technology they need to work effectively from anywhere; over 70% of workers want flexible remote working options to continue1. For businesses themselves, it means digital transformation – to find solutions that meet everyone's needs; for many industries this means platforms that also meet accountability, governance and risk management standards. 
Microsoft Teams has undoubtedly proven itself to be one such solution. Reaching 250 million monthly active users in July 2021, up from 145 million daily active users in April 20212, Teams has transformed how many organisations collaborate. 
When used fully, the platform offers substantial benefits; streamlined communication and productivity, accountability tracing, accelerated decision-making, business process improvement and automation, better use of resources and more. 
Here, we'll look at key Teams' features that enable those collaborative benefits.
Understanding what Microsoft Teams enables
First it's important to understand the full scope of what your organisation can achieve when using Microsoft Teams effectively. Teams is more than just instant messaging or video calling!
Teams is Microsoft's central collaboration platform that aligns voice, chat, video, and file sharing, supporting accountable, real-time collaboration across a wide range of channels.
Enabling anyone in the business – plus suppliers and partners – to work together, accelerate decisions, track progress and more, it's a unified solution for holistic working from anywhere.
When it comes to Teams' core features, many users may be familiar with video calling or messaging. But the platform is much more comprehensive, and designed to enable deeper collaboration:
Chat. At a one-to-one or group level, chat allows central working, file sharing and ensures that every Teams member stays informed with a centralised record of decisions and conversations. Additional elements such as chat translation also supports global and multilingual working.
Channels. Teams' channels are dedicated sections within a team, designed to keep conversations organised by specific topics or projects.
Video calling and virtual meetings. Integrated with chat, channels, and the wider Microsoft 365 suite, it's easy to join a call from anywhere. As meetings can be recorded and transcribed, collaboration remains accountable and ensures no detail is missed.
Telephony. Integrated with all other Teams communication channels, Teams alone supports internal calling. And with the ability to add Microsoft Calling Plans or Direct Routing to enable external Teams calls, Teams can also support an organisation's wider telephony needs.
With Microsoft continually advancing and adding new features, Microsoft Teams is a secure, accessible way to enable centralised modern working.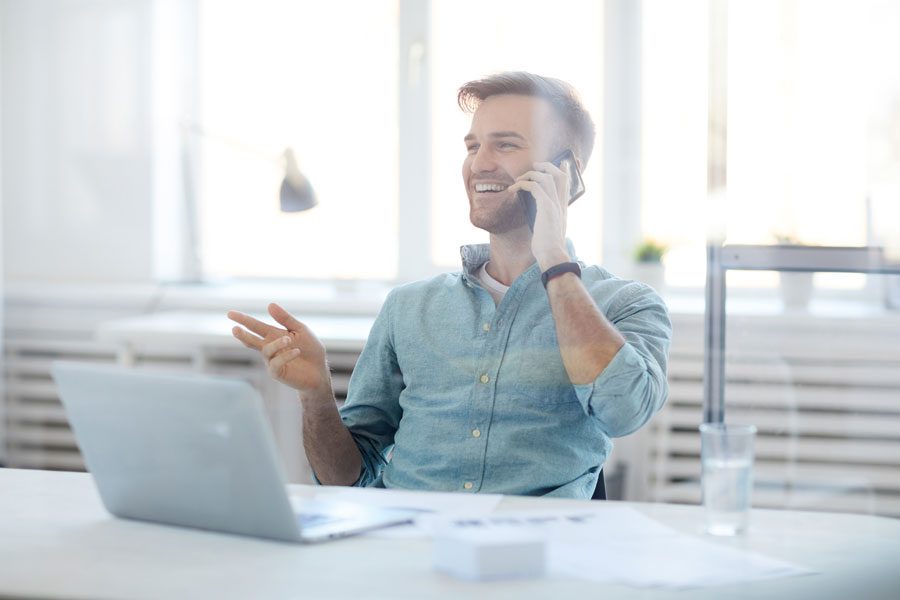 6 Teams features that enable collaboration
1. Security for accountable, compliant collaboration
Enabling collaboration while remaining secure, compliant and in line with governance and regulatory requirements can be a headache for many businesses, particularly in industries such as Finance or Healthcare. 
However, by choosing to collaborate in Teams, organisations gain all of the (continuously updated) security benefits of the broader Microsoft 365 suite. For example:
Teams enables two-factor authentication and encryption. 

Data in Teams meets ISO 27001 standards3

, as well as FCA regulatory requirements.

As all conversations (via all channels including video and calling) can be tracked, transcribed and recorded, all communications across the business are accountable, and support wider compliance auditing – as well as ensuring no detail is missed in day-to-day working.  

Teams can also be customised with developer templates for specific verticals, including Government agencies, education groups, healthcare, first-line workers and more.
Teams also supports easy and simple collaboration with internal and external partners and other guest parties as needed – ensuring that security is maintained at all times.
2. Integrated video calling, for collaboration from anywhere
More than just a 'video meeting', Teams' integrated video calls are an ideal way to support consistent collaboration across any device, from anywhere.
Integrated with all other Teams communication channels – from chat, to internal calls/conferencing, or external calls with Direct Routing or calling plan support – video calling helps teams collaborate in real-time at a one-to-one or company-wide level. 
Teams Video collaboration:
Can be scheduled in-calendar, or spontaneously started

Can be accessed on any Teams enabled device, from anywhere

Can support up to 250 users per meeting4

. Microsoft are currently working to increase that capacity

Includes automatic transcription and recording to ensure no detail is missed, and all communication can be traced or cascaded appropriately

Includes whiteboard support for real-time meeting collaboration

Can support live event broadcast streams, for one-to-many events, meetings and webinars of up to 1000 users
3. Accountable, accessible telephony for everyone
Beyond chat, mail and video, Teams has the ability to support internal calling (VoIP calls to connected Teams users) and with Direct Routing, Teams becomes a complete inbound and outbound telephony solution. It is also possible to add recording for telephony, video and chat to create a fully compliant communication platform.
Giving staff a complete range of centralised, integrated ways to collaborate, moving to Teams for telephony offers the advantage of Microsoft's reliability and security. For industries that require evidenced accountability, using Teams for Telephony ensures all business communications are unified and recorded.
Ensuring every staff member has a way to make calls and collaborate from anywhere has the additional advantage of a reduced IT footprint – with no outdated PBX equipment or training to consider. As Teams telephony includes advanced capabilities and third-party support, every telephony need – from cloud compliant call recording, to call queuing, to contact centre integration and more – can be met.
 4. Microsoft integration to support one central source of the truth
Integrated with the wider Microsoft 365 suite, Teams enables real-time collaboration and tracked accountability at any stage of work, across any Microsoft file, and supports collaboration across any other content in their Teams' SharePoint.
Aligned in everything from real-time document editing (no more multiple version files) to calendaring, Teams is more than a communication channel. It's integrated everywhere, including Microsoft Power Apps; allowing any user to create their own low-code app to support their unique requirements (such as creating custom workflows, building reports, delivering onboarding, or enabling Customer Support).
As a result, businesses are now able to support their unique needs from anywhere – without an out-of-control tech stack – giving the ability to drive change and align strategic working at every level.
5. Collaboration with third-party apps for extended scope
Third-party integrations are possible with a wide range of suppliers, designed to support and extend the scope of seamless working. In these cases, Teams' users can use supported applications directly within channels, calendars and live meetings to keep every action centralised.
6. Apps & Bots to support specific needs, and save time
Integrated into the Microsoft Power Platform, Teams offers a range of pre-made bots and apps to support and automate time-consuming activities. Users also have the ability to create their own custom low-code apps and bots for specific needs.
As well as low code tools, it is also possible to integrate with more capable developer tools. Such as the Azure Bot Framework which is more powerful than the Power Platform but with the right expertise can create more powerful bots.  This provides for a very powerful capability for both coders and non coders alike. 
As a result, team members can better streamline processes, and ensure efficient, effective work between everyone. Use cases are vast – teams might use a bot to find and share files quickly across the organisation, to onboard team members, compile a report, or support a wide range of other situations from customer support, to crisis management.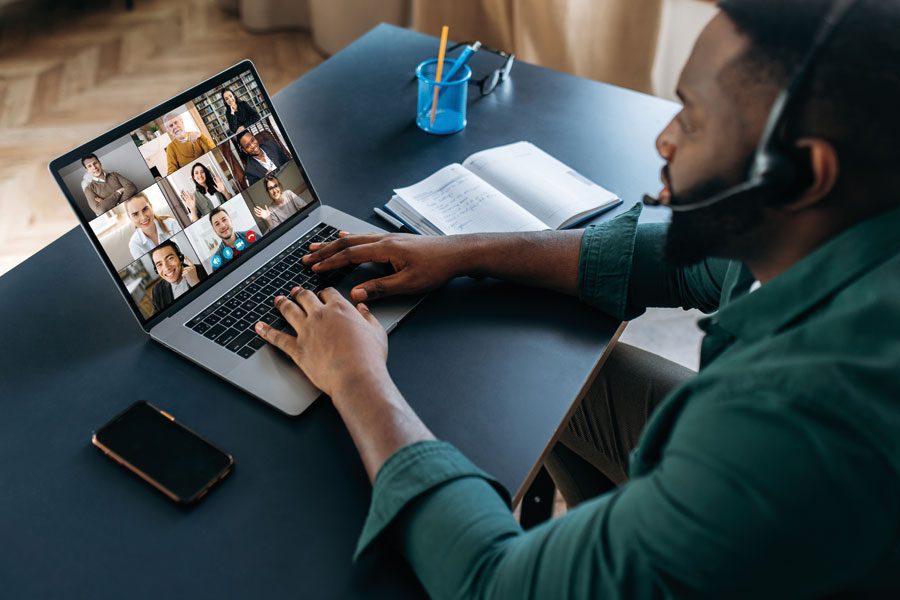 Best practices for Teams collaboration
Teams offers many ways to support modern working and collaboration. Yet, if not implemented and managed in a considered way, it can quickly sprawl, and become messy.  For best collaboration over time, organisations should consider what they want and need to achieve, and plan accordingly.
Common best practices for collaborating in Teams include establishing best methods for communication channels:
For quick responses, or replies for a specific person, use one-to-one direct chat, or spontaneous video calls

For conversations that may need multiple input, or have actions for a few team members, group chats or planned video calls with listed agendas are recommended 

Specific problems, document questions, or single issues are typically best for group chat

Wider topics (such as a project launch) work well with Teams' Channels. With every stakeholder and relevant department involved, channels support a group overview over decision-making, accountability and visibility. A dedicated Teams channel per department may also help to streamline conversation.
Of course, how your organisation (and each individual) chooses to use Teams will be unique. But putting some organisation-wide practices in place will help streamline and optimise your collaboration.
If you're considering a move to modern hybrid working to enable effective collaboration, why not register for a Microsoft Modernise Communications Workshop? This workshop will showcase modern calling capabilities and help your business build a plan to deploy and adopt Microsoft Teams calling.