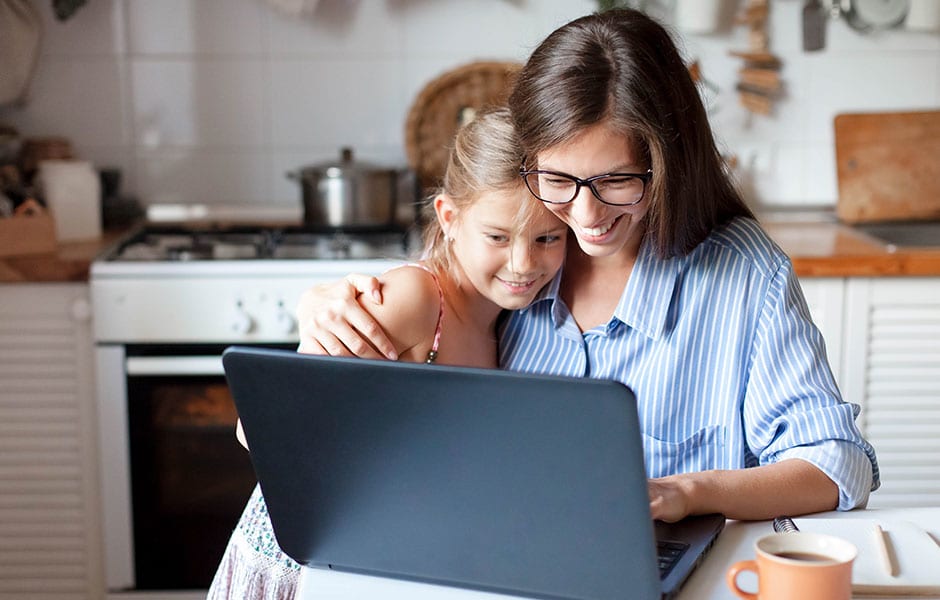 Our CEO, Steve Haworth, looks at ways workers can stay productive and motivated when working from home.
As workers adjust to their new environments, some unexpected hurdles have cropped up.
Many live in rented or shared accommodation, which may not have all the fixtures, fittings or furniture necessary for home working. Others have found themselves in full or crowded households – with children off school and partners who are also working from home or may be furloughed or in quarantine . Not everyone has the luxury of a home office, so what do you do when the lounge has suddenly become the new workplace for two or more people?
Here's how business leaders can help workers to make the most out of their home working environment. Optimising connectivity, collaboration and productivity.
Working effectively in a new environment
When setting up a work zone, it's important to ensure everyone in the household has enough space and is comfortable. As we look ahead to the prospect of an extended lockdown period – potentially weeks or months until a return to relative normality – now is the time to think of the long-term practicalities of working from home. Do your workers need a second screen to replicate the office set-up, or a wireless mouse and keyboard to give them the flexibility to use non-traditional spaces as a home office?
For us, the game changer was running an employee pulse survey. This covered technology challenges but also touched on general queries around how effectively people felt they could work remotely. This threw up a number of frustrations that were easy to solve – from extra chargers, to new headsets for those working in noisier environments. Google Forms, Survey Monkey or Microsoft Teams can run these surveys anonymously to give you a sense of where you should focus your efforts – while also providing employees with a safe space to voice concerns without fearing the backlash.
Troubleshooting connectivity issues
Our own research has revealed one of the biggest flexible working frustrations is poor connectivity. Now, many households have multiple people using the same WiFi. Clogged up bandwidth and slow internet speeds can quickly turn from a minor frustration into a major impact on productivity. Setting up multiple routers can help those working in areas with a weaker signal. If you have an option to use a wired, ethernet connection, this can improve performance on an otherwise crowded network.
Some entertainment sources, such as Netflix, may have options in their settings to reduce bandwidth consumption. Similarly, many routers now offer the option to use Quality of Service settings to give priority to certain types of applications, devices or traffic – meaning you can prioritise your critical business meetings over the children's gameplay.
Now is the time to encourage workers to check the household they're in has decent internet speed and take note of when it's going to be the busiest. Many of the issues will be local and can be surprisingly easy to overcome with a little know-how.
Boosting mobile network signal
Another connectivity issue is poor mobile phone signal. Employees may have a business mobile device with a network provider which does not work, or performs poorly, in their local area. Fortunately, most networks and devices now have WiFi calling, allowing calls to be made via WiFi when the signal is poor.
Another key hack is to look into a Bring Your Own Device (BYOD) policy. While some employers may have historically resisted this, employees are likely to have picked the best network for their area, and the best device for their own usage and needs. While BYOD can be a red flag for IT departments, as they may lose control over what business information is shared, an effective and well-thought-out BYOD policy can negate many of these concerns.
When supported by the right technology, BYOD can easily become a productivity booster, rather than a security headache. Call recording software or second number apps that provide employees with a business number on their personal device are examples of readily available software.
Enhancing video calls
Video calls have become the new normal when communicating with colleagues and clients. There are many video-conferencing and communication tools available now, and they have great features. Effective video calls stem from understanding the platform you are using and knowing what you can – and can't – do. Now is a great time to ask employees if they know how to use communication tools to their best ability and schedule virtual workshops on the built-in features they might not know exist.
There's a wealth of tools available within most video calling tools that can vastly improve employees' ability to work remotely effectively. Many people are already aware of the virtual background and blurred background features in Zoom and Microsoft Teams, which allow employees to shield their colleagues from distractions such as children, pets, or partners. However, there are numerous options beyond this. For example, not everyone knows about Zoom's breakout rooms feature, which allows meetings to be split off into multiple separate conversations, or Microsoft Teams' video Q&A tool, which can be an effective method for senior managers to engage with a large workforce in a collaborative, transparent way.
Tackling security issues
One of our most common questions is – should I use Zoom or Teams? Each has its benefits. Zoom is often lauded as the superior tool for 'external' communication, whether directly with customers or third-party vendors. On the other hand, Microsoft Teams provides a host of tools and options that can support internal collaboration, such as integrations with the Microsoft Office suite. Both have powerful integrations with other tools such as Slack. Many organisations may choose to avoid the 'either-or' choice altogether and instead use both. This is made easier by the fact that both Teams and Zoom even have integrations with one another, allowing a seamless transition between the two.
Nonetheless, employees should be made aware of security best practice, regardless of what is being implemented. Ensuring calls are made on software that uses encryption is crucial – particularly when handling confidential information or hosting sensitive business conversations. If your company uses Zoom, for example, encourage employees to lock meetings down as soon as the right participants have entered the chat to avoid unwanted guests.
Communication is key
Regardless of software, policies or equipment, the most important enabler to optimising connectivity, collaboration and productivity during the lockdown is to ensure that communication channels are always open. Making sure your employees are able to express their needs, talk to one another, and maintain an open flow of information to and from senior management. This can be the difference between success and failure, and ensure your business comes up swinging once the quarantine ends.