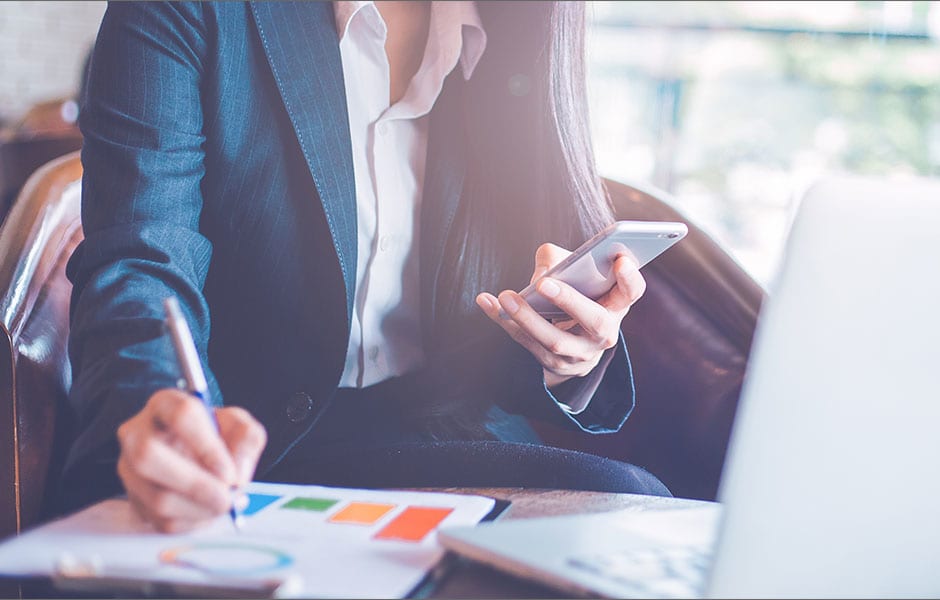 One of the UK's largest and oldest high street banks is investing over £3 billion to deploy new technology that will make banking simpler and easier for customers and drive operational efficiencies. Improving digital services and creating a digital workplace are central to this transformation.
Research by networking specialists, Aruba, finds there are clear benefits to being a 'digital revolutionary' – an employee who works in a fully-enabled digital workplace – versus a 'digital laggard' – those that have less access to workplace technology. These include increased productivity, collaboration and job satisfaction.
The bank wanted to introduce an alternative to the existing mobile phone offering for better colleague choice, to improve collaboration and increase productivity.
Modernising mobile communications
The bank wanted to specifically look at colleagues who were using the latest mobile phones for personal use. This was because the difference between their personal phone and their business phone was so stark. These colleagues were most likely to be dissatisfied with their business phone and therefore most likely to not use It which Is a problem for the bank In such a regulated Industry.
So, having listened to colleague feedback they spoke to us at Teleware about Re:Call which provides a 2nd number on colleagues' personal phones, enabling them to use this for business as well as personal calls, SMS and also Instant and Group messaging.
Re:Call was appealing because It Is easy to deploy and manage, reduces the number of mobile phones the bank needs to provide, helping with Its environmental agenda and gives colleagues greater choice.
BYOD benefits you can bank on
A bring-your-own-device (BYOD) policy was already in existence at the bank for accessing email. It wanted to explore the option of expanding this policy, allowing staff to use their personal phones for calls and messages, as well as email.
For any employees wishing to swap their business mobile in favour of Re:Call, Teleware was able to transfer their existing business mobile number across to Re:Call. The 'Do Not Disturb' function also enables employees to manage their work/life balance more effectively, silently sending all calls to voicemail when the user does not want to receive business related calls.
By rolling out the option to download the Re:Call app on personal devices, employees no longer have to carry two phones and accessories. An added benefit is that the is starting to benefit from reduced management needs; the monthly subscription is billed straight to the company and users can be added or removed quickly and easily.
Security at the heart of the solution
Security is particularly Important for major banks. With access to sensitive and highly-valuable customer information, the bank's security team, undertook significant testing with the Teleware team to ensure the app met It's stringent security protocols. This included the application itself, the platform and data centres, business continuity processes, change control and data control. The security team also needed to carry out independent penetration tests on the Teleware platform and the app. In addition, it was equally important that colleagues were confident that by installing Re:Call on their personal device, it would not allow the bank access to any of their personal data. As Re:Call is a stand-alone app, it requires no integration with any other app on the device.
Introducing Instant Messaging and Group Chat
The bank was aware that non-authorised messaging apps such as WhatsApp which meant that sensitive Information could be being shared via technology out of the bank's control. So, when Teleware launched Its own Instant message and group chat functionality within Re:Call, the bank was delighted.
Scaling up to 30,000 employees
Re:Call is now available to over 30,000 of the bank's UK employees as part of their mobile offering. The bank's goal was to increase employee choice and now Re:Call has become the number one option for mobile communications.
There has been lots of positive feedback from the customer. A spokesperson at the bank involved in the roll-out said, "We've been really impressed with the level of customer service from the Teleware Re:Call team. We are excited for what the future will bring in enhancing the mobile compute for colleagues."
Five Re:Call benefits experienced by one of UK's 'tier 1 banks':
Choice – any iOS or Android device
Simplicity – one phone for everything
Work/life balance – one-click 'Do Not Disturb' functionality
Security – GDPR compliant
Financial saving – reduced hardware and IT support needs